Brittney Leeanne Williams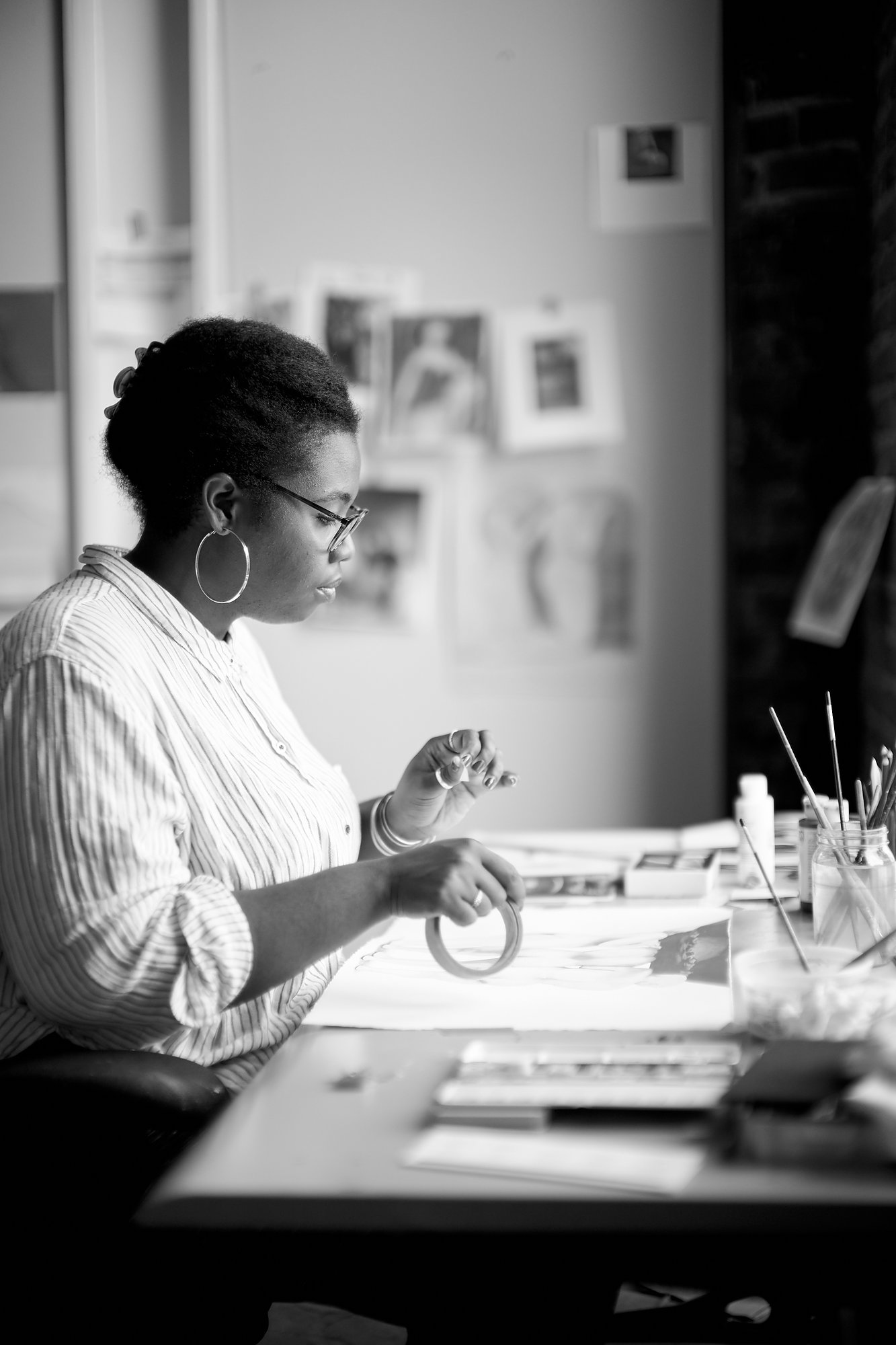 The entangled figures at the center of Brittney Leeanne Williams's paintings are suspended between desert and garden, abundance and scarcity, earth and sky, vulnerability and courage. Her landscapes embody emotion. Cadmium red thighs, arms, stomachs, and breasts fold into each other. Limbs emerge out from under lemon-laden archways and materialize within a flurry of bougainvillea. The natural elements are culled from Williams's childhood homes in California. The elliptical shapes that encompass the figures and their luminescence recall the images of visionary symbolist Agnes Pelton (1881–1961) who also drew inspiration from the mystical quality of the California desert. Like Pelton, Williams paints to coax light out of the darkness. "If we thought about trauma as a place, what would that place look like? What would be the terrain, the temperature, the geography?" Williams queried in a recent interview with Elephant magazine.
Titled Naomi and Ruth after the Biblical book of Ruth, Williams's paintings reference the traumatic desert journey of widowed mother Naomi and her widowed daughter-in-law Ruth from Moab to Bethlehem. After fielding Naomi's three desperate attempts at dissuading her from making the trip, Ruth finally asserts, "Stop urging me to abandon you! For wherever you go, I will go. Wherever you live, I will live. Your people will become my people, and your God will become my God." Ruth takes on the role of mother and Naomi exhibits the vulnerability of a child. A closer reading of this ancient text reveals the complexity of the mother-daughter relationship and the layered questions of inheritance, duty, and faith.
Despite the specificity of her titles, Williams desires for the figures to act as "cups or vessels" open to interpretation as opposed to singular subjects. Having previously rendered her figures in shades of yellow, pink, and orange, she adopted the red palette upon returning to Chicago from Skowhegan School of Painting and Sculpture in Maine in 2017. The ambulance lights reflecting in the cityscapes caught her attention. "This red, pulsing light had the ability to choreograph the pace of a street. It could get people to stop, this red siren was a signal that forced recognition. So, I wanted that for the Black female experience, for the women, for myself, when thinking about this urgent state." Naomi and Ruth: Mother's Grip conveys this struggle in vivid tones. Red sky passes to serene blue and back again. Against the serene backdrop of a faceted mountain at sunset, the visual siren reverberates in the land, echoing generational trauma and grasping toward an "otherwise" future.
– Cara Megan Lewis