Clementine Hunter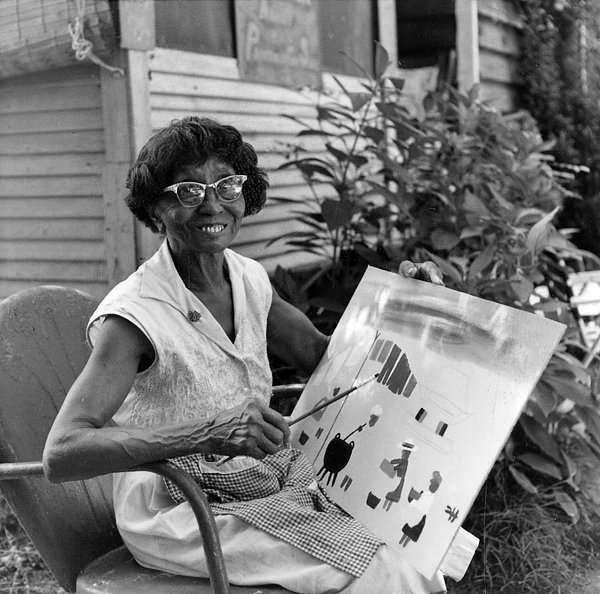 Twenty years after the Civil War, Clementine Hunter was born into a Creole family at Hidden Hill Plantation near Cloutierville, Louisiana. As a teenager, she moved to Melrose Plantation near Natchitoches where she spent decades working first as a field hand and then as a cook and housekeeper. The owner of Melrose Plantation, Carmelite "Cammie" Garrett Henry, would often host artists for extended visits to her home. One of the artists left behind some supplies that Hunter then found and used to create her first painting in 1939. She was in her 50s, and from that defining moment on she became a prolific painter, creating more than 5,000 works until her death at the age of 101.
Hunter's colorful figurative paintings provide a lush firsthand record of daily life in the Cane River region of central Louisiana. A self-taught artist, she would paint at night after working all day at the plantation, using any surface she could find, painting on canvas, wood, paper, cardboard, window shades, gourds, and more. Hunter's vibrant and expressive paintings intricately depict the narratives of plantation life such as picking cotton, hanging clothes to dry, going to church on Sunday, baptisms, weddings, and funeral processions. She represented human figures on a linear ground through the use of a flattened perspective. Often stiffly posed with few rendered details, each figure's individuality and story are conveyed through their work and the surrounding environment.
Her unique compositions, flat style of painting, and joyful use of color are evident in the works Coming from Church and The Nativity in which she elevated everyday life and humanized religious scenes. In Coming from Church, a field of warm pink and a cloudy sky of blue-lavender provide the backdrop for a group of women and young girls, dressed in colorful dresses and matching hats adorned with flowers, shown leaving a white church after service. In The Nativity, mother and child are sitting under a canopy of trees as three men walk in procession toward them bearing gifts of flowers and food, a red church sits in the bright yellow background, and overhead two angels look over the scene.
– Vicki Phung Smith
Selected Press
National Museum of Women in the Arts
01.12.21
Cordella Magazine
01.01.20
Smithsonian Magazine
10.18.18