Kehinde Wiley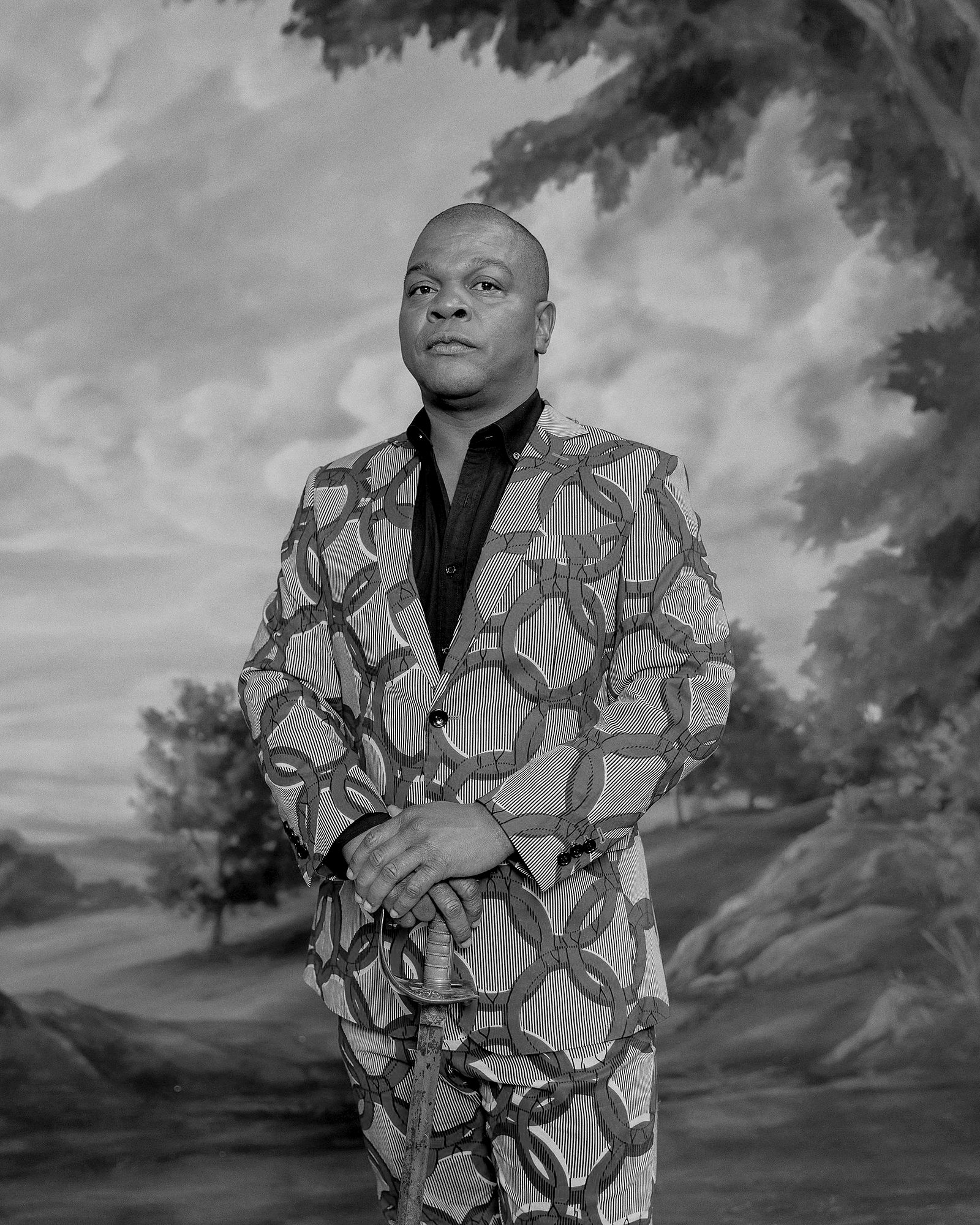 Born in 1977 in South Central Los Angeles and based in New York, Kehinde Wiley is the son of an American mother and Yoruba Nigerian father. Wiley has also been heavily influenced by the Old Masters and their mediums; popular themes and styles in his work come from the Baroque and French Rococo periods in art history. He has also been directly affected by his environment and aware of how his Blackness is viewed by society. One day while walking down the streets of Harlem, he was inspired by the idea of portraiture which prompted him to choose his muses from the city: Black men. He began painting portraits but reappropriated famous Western art historical scenes with these Black men as subjects. Wiley's work has since expanded into portraying women, celebrities, and even the 44th president of the United States, Barack Obama.
Wiley's oeuvre focuses on the representation of the Black body in art history. For example, the artist uses flowers to create a contest between foreground and background, while also using them to juxtapose the masculinity of his subjects with the femininity of the floral backgrounds. He does more than create astonishing naturalistic works of art—he rewrites the Western version of art history with Black men and Black women as the powerful subjects rather than forgotten names. His skill and inspiration from the Old Masters, combined with the influence of his Blackness and environment, have taught the world the importance of Black representation.
In the painting St. Nicholas of Myra, Wiley reimagines the traditional Catholic Saint Nicholas, patron saint of miracles and the working class, as a contemporary Black man. The man's right hand is positioned in the same manner as the saint, and in his left hand, instead of the Bible, he holds a book turned to a reproduction of Raphael's The Ecstasy of St. Cecilia, the patron saint of musicians. The man's shirt displays a chart of Black men with "barbershop" written underneath, suggesting that the men are models of the different haircuts available in barbershops. The image as a whole could be interpreted as the gift of music in Black culture. In regards to the themes of Otherwise/Revival, Wiley rewrites a history where Black men can be both subjects and saints while simultaneously being themselves.
– Jasmine McNeal