Nathaniel Mary Quinn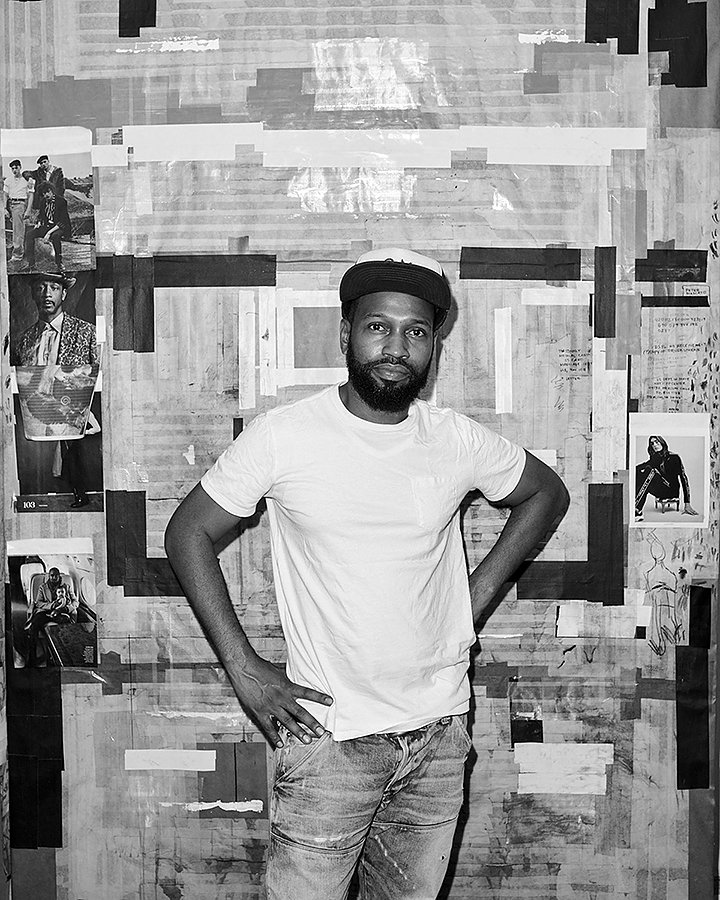 Nathaniel Mary Quinn will talk to anybody. It's true, anybody. During breaks from his 14-hour work days, Quinn is perfectly content to chat with whomever is on the street, and within the hour, have an equally animated conversation with a famous collector eager to see his artwork. Interested in everybody, Quinn instinctively demonstrates that to be human is to be multifaceted and worth full attention. His perception of humanity is a vision of complexity.
Complex visions come to Quinn; they come to him as finished pieces. Like revelations, they are a phosphorescent pop of perception, a flashbulb in a crowded room. Every portrait exposes the soul, teaming with hopes, insecurity, family, personal tragedy, and perhaps even a flare for fashion. All of these realities are a startling composite in Quinn's work. Nothing is overlooked, not even the pain.
Quinn has had plenty of pain. His story of perseverance in the face of overwhelming odds may sound surreal, but for him was reality—an intensely personal experience that had no guaranteed happy ending. Somehow, an impoverished childhood, his mother's early death, and abandonment by the rest of his family at the age of 15 have all transformed into motivation and material for his miraculous work. Adversity was not the final word, and Quinn considers himself blessed by all of it.
As an example of this rich admixture, Love You, Nephew considers a single family member, and more broadly, family itself, with its capacity to bring great love or devastation. Quinn describes this tender portrait as "a reflection on my nephew—his sensitivity and vulnerability, his fragility and hidden and buried disposition—during a time when my love for him was freely and fervently expressed."
On a single ground—canvas or paper—Quinn uses charcoal, pastel, oil, and gouache to render every element by hand. Nothing is collaged, though his work often looks like spirit and body have been folded into disorienting origami. As a form of spiritual realism, no portrait of his is merely representational but hyper-representational. Unseen dimensions are visualized: the inside along with the outside, the now and the not yet, the shining hope and the gritty reality. This is why, despite jarring distortion, Quinn's portraits feel familiar. From the inside, we all know what it feels like to be human, a gloriously imprecise jigsaw of all we have been and aspire to be, hope, and believe.
– Linnéa Gabriella Spransy Neuss
Selected Press
Gagosian Quarterly
09.04.19