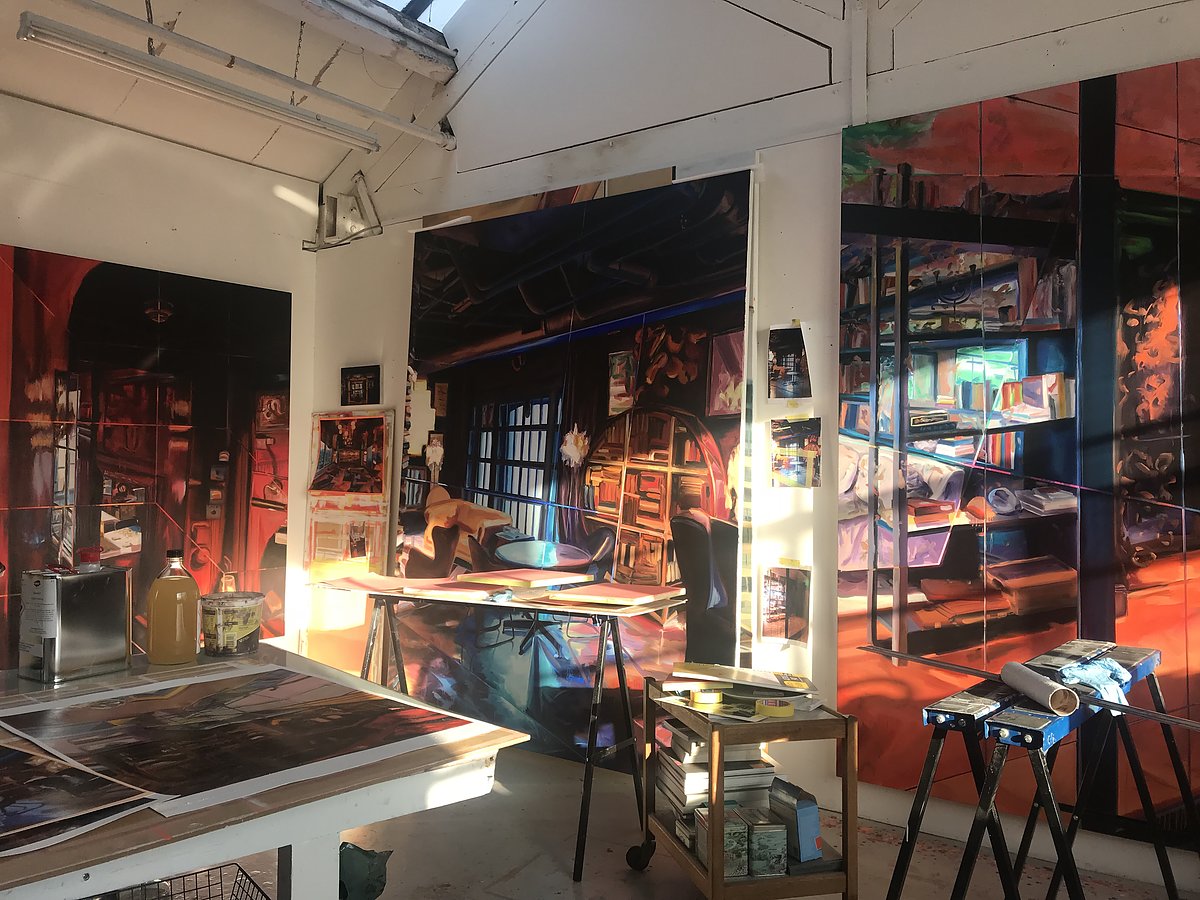 Anna Freeman Bentley
Cactus House Salon
Sunday, March 18, 2018
5:00 pm
with Jonathan Anderson and Mandy Kahn

Cactus House Salon
Sunday, March 18, 2018
5:00 pm
The first Cactus House Salon of 2018 will feature a collection of Anna Freeman Bentley's vivid interior oil sketches, paired with the equally vital poetry of Mandy Kahn. Each artist enters into the potential meaning(s) of space and spirit with aplomb and warmth. In their respective images, clarity and complexity synergize, implying that recognition is an exercise in multiplicity - to recognize the world is only an elementary initiation in understanding. In the world as Anna and Mandy see it, architecture embodies layered human ambition, chairs are imbued with eccentric spirit, and the walls do in fact speak.
The Cactus House Salon is named in honor of the eighty year old Cereus Monstrose that has stood since the 1930s at the door of the eponymous Cactus House, a bungalow in Atwater Village. At each salon, a featured artist will welcome guests to view a micro-installation of works, objects, studio detritus and books essential to their practice, followed by an in-depth interview with a select conversation partner in hopes of setting the stage for rich discovery and discussion.
Anna Freeman Bentley was born in London in 1982. She studied at Chelsea College of Art 2001-04, Kunsthochschule Weissensee, Berlin 2003 and the Royal College of Art 2008-10. She has an upcoming solo exhibition at the Ahmanson Gallery, in Irvine (March 2018) and has had previous solo shows at Wolfson College, Oxford (2017), Husk Project Space, London (2015) and Workshop Gallery, Venice (2012). Selected group exhibitions include London Now at Space K, Seoul (2017), Der Kuhle Glanz at 68projects, Berlin (2017), the East London Painting Prize (2015 and 2014), the Prague Biennale 5 (2011), and Bloomberg New Contemporaries (2009). Awards and residencies include Breathing SPACE Residency (2016), Artist in Restaurant, Pied à Terre (2012); The Florence Trust Artists Residency (2011) and The Chelsea Arts Club Trust Award (2009), all in London.
Jonathan Anderson is an artist and art critic, and an associate professor of art at Biola University. He currently lives in London, where he is working on a PhD at King's College London. Prior to moving to London, he was an associate professor of art at Biola University, where he taught for more than a decade. Anderson's research and writing focuses on modern and contemporary art, with a particular interest in exploring its relations to religion and theology. He is the coauthor (with theologian William Dyrness) of the book Modern Art and the Life of a Culture: The Religious Impulses of Modernism (IVP Academic, 2016), and he has contributed to several books and journals, including essays on Rachel Whiteread, Francis Alÿs, John Cage, Wim Botha, and the strange place of theology in contemporary art criticism. Professor Anderson has given scholarly presentations at the Institute of Sacred Music at Yale University (Society for Christian Scholarship in Music), the Cathedral of Our Lady of the Angels (Association of Scholars of Christianity in the History of Art), and The Courtauld Institute of Art (Association for Art History).
Mandy Kahn is the author of two poetry collections, Glenn Gould's Chair and Math, Heaven, Time. She frequently collaborates with composers to create new works that combine poetry and classical music and was a librettist for Yuval Sharon's acclaimed opera Hopscotch. Her poetry is forthcoming in Best American Poetry 2018 from Scribner/Simon & Schuster and was featured in former Poet Laureaute Ted Kooser's newspaper column American Life in Poetry. Kahn is coauthor, with Aaron Rose, of the nonfiction book Collage Culture, which was also released as a record with a score by No Age. She's given readings at Cambridge University, London Review Bookshop and Shoreditch House in England, at Motto in Berlin, at Colette in Paris, at Printed Matter in New York, at Davies Symphony Hall in San Francisco, and at many venues in Southern California, including the Craft and Folk Art Museum, Skylight Books and Art Center College of Design. Kahn has been interviewed by BBC Radio, Flaunt and the Los Angeles Review of Books, among many others. She lives in Los Angeles.