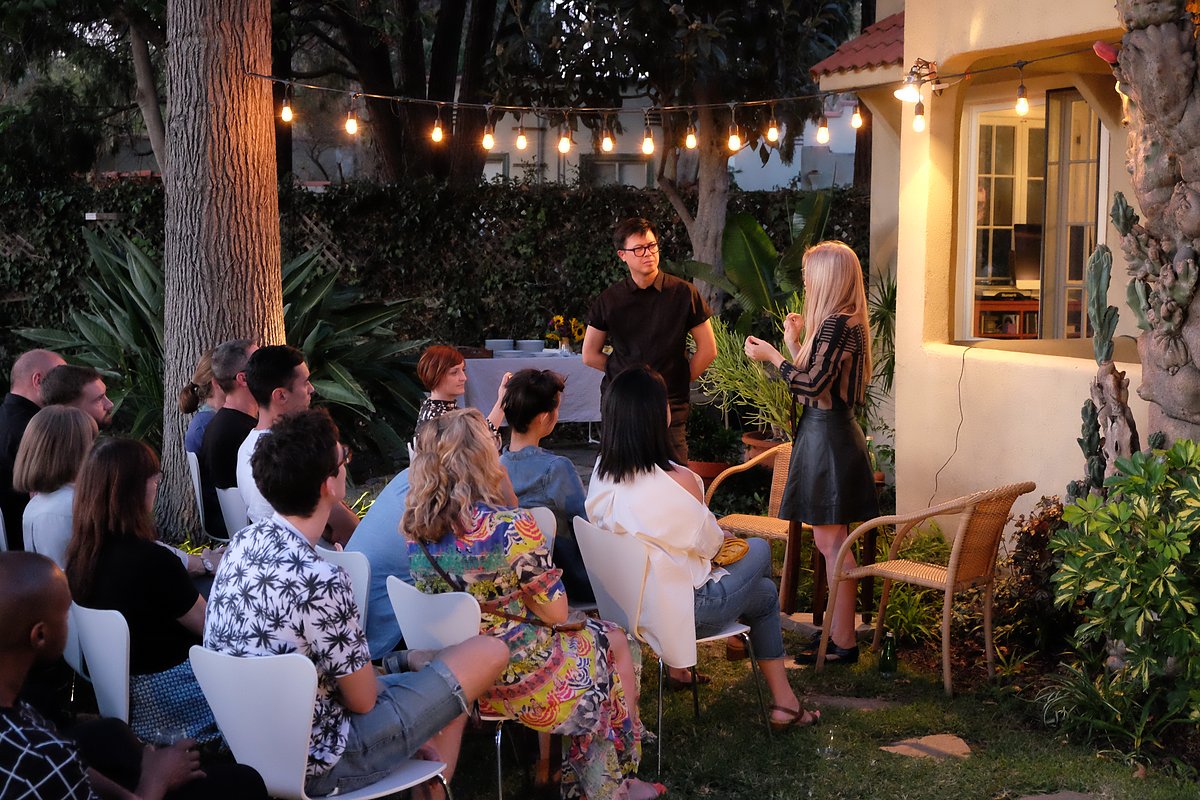 Linnéa Spransy
Cactus House Salon
Sunday, October 15, 2017
5:00 pm
with John Chan and Max Justus

Cactus House Salon
Sunday, October 15, 2017
5:00 pm
The Cactus House Salon is named in honor of the eighty year old Cereus Monstrose that has stood since the 1930s at the door of the eponymous Cactus House, a bungalow in Atwater Village. At each salon, a select Los Angeles artist will welcome guests to view a micro-installation of works, objects, studio detritus and books essential to their practice, followed by an in-depth interview with a select conversation partner in hopes of setting the stage for rich discovery and discussion.
This inaugural event curated by Cara Megan Lewis features painter Linnéa Spransy in conversation with architect John Chan. After the chat, Max Justus, an experimental electronic musician and Linnéa's brother, will improvise a response to her paintings, diversifying potential means of engagement with the work.
Linnéa's paintings, drawings and installations are generated using systems and rules which are distillations of her interest in emergent theory, quantum mechanics, theology and chaos theory. Her work has been exhibited throughout the United States and internationally at numerous academic institutions including Princeton University, both commercial and non-profit galleries such as White Flag in St. Louis and Rhona Hoffman Gallery and is featured in numerous corporate collections. Her collaborative work and performances have taken place in NYC, London, and in Dundee, Scotland.
Spransy was born in 1976 in a town called Oconomowoc, WI. Her father was the synth player in one of the first Christian glam bands to ever tour. Her formative years were spent in a 75 member community in Oregon with a 'common-purse' economic structure. Having begun her education in a one-room schoolhouse, she finished it at Yale University, earning her MFA in 2001. At this juncture, her curiosity about science, philosophy and ultimate questions came to the fore, opening wide unexpected territory that she has been exploring ever since.
Cara Megan Lewis is an artist, artist advocate, and curator. Cara began her supporting role in the arts at Fraenkel Gallery in San Francisco in 2002 and was a Director at Rhona Hoffman Gallery in Chicago between 2012-2016. Upon receiving her Master's degree in Curatorial Practice from the California College of the Arts in 2007, Cara co-founded the Kansas City art gallery, Cara and Cabezas Contemporary. During the gallery's four years of operation, Cara developed an exhibition program that explored socio-political themes and fostered a residency program that hosted artists from Central America and the Caribbean. As a practicing artist, Cara collaborates with her husband under the moniker of Díaz Lewis. On Wednesday mornings, you can find her working as a volunteer in the Bonsai Department at Huntington Gardens.
John Chan is a native Angeleno and a California architect with extensive experience in projects across the United States and abroad, including public buildings, universities, and large scale master planning.
As founder and Design Director of Formation Association, an award-winning architecture and environmental design firm, John has collaborated with Los Angeles artists on projects presented internationally and locally, from the Mona Bismarck American Center in Paris, to the MIT List Visual Arts Center in Cambridge, and the MAK Center for Art and Architecture, in Los Angeles. Notably, Formation Association won a Progressive Architecture Award in 2016 working with artist Steve Roden and appeared in Art21 with frequent collaborator Edgar Arceneaux.
The expanding work of Formation Association ranges from residential, commercial, and cultural projects of various scales to art installations and design objects which have been published by journals and publications, including Phaidon Press, Architecture Magazine, Dezeen, and Fast Company. Recently, Formation Association was invited by the GlobalArtAffairs Foundation to participate in their exhibit for the Venice Architecture Biennale in 2018.
Max Justus strives to build sonic worlds both familiar and alien - inviting yet foreboding. Utilizing obtuse combinations of organic and inorganic sounds to form realms for more traditional word and voice to inhabit. His sonic style draws from a mix of experimental electronic, classical, and jazz influences, while his vocal and structural approaches take queues from R&B, gospel and singer-songwriter greats.
Having produced and regularly released electronic music since the age of 14, his latest offering sees the end of a six year process of working and reworking. Many of the songs going through several cycles of self doubt, reflection and metamorphoses before assuming their final shape.