Angela Bryant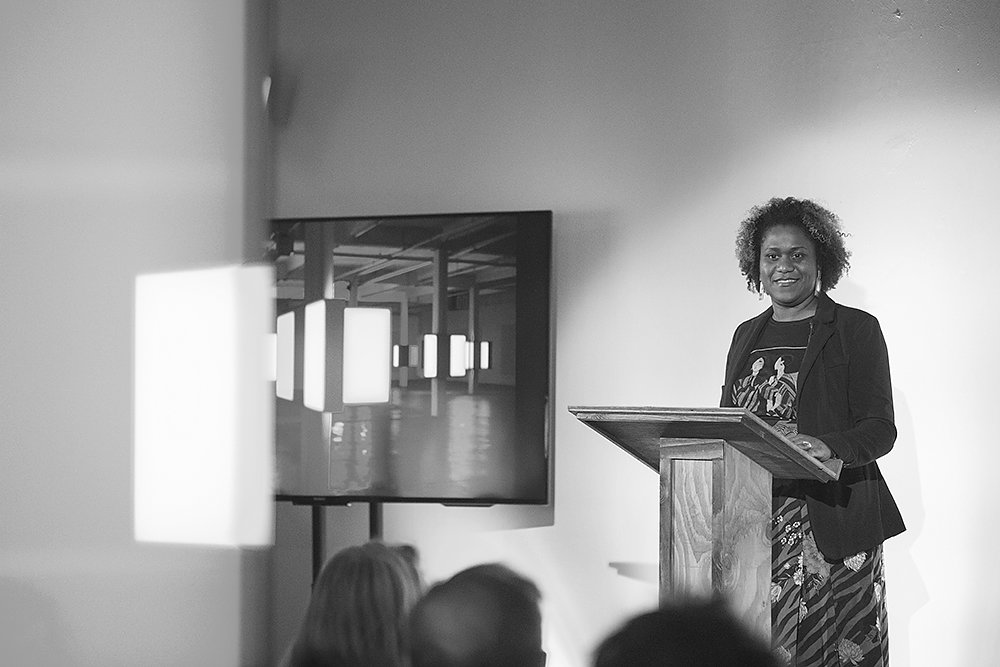 Multidisciplinary artist Angela Bryant invites us to glimpse that which is intangible. Decorative, often floral, textiles comprise the background of two series titled Emerge and Double Vision. Bryant intervenes into these organic prints with brightly colored geometric forms and patterns, revealing a portal to another realm just below the surface. Inspired by microbiology, quantum physics, and spirituality, this aesthetic carries over into her installation works that are often composed of soft amorphous forms, organic in nature. The rooms drip with whimsy and joy, and upon entering, the viewer is transported to another world.
In Bryant's youth, visiting a Black church felt like visiting another world as compared to the predominantly white, private, conservative Christian school she attended. What she remembers most from her visits to the Black church was "a sense of warmth, not necessarily a belonging but a welcoming," as she expresses in her artist statement. Church sisters or lady ushers would greet congregants with perfume-laced hugs and decorated fans. As a child, Bryant collected these church fans, stashing them in between books on her shelf; upon discovering them later, they served as a visual reminder of a warm embrace.
That welcoming spirit is what Bryant conjures in her performance Sista-So-n-So. She recreates the experience of entering a Black church with herself as the perpetually smiling church greeter giving hugs and passing out fans. Sista-So-n-So transports an aspect of the Black church experience into the secular space of an art gallery where, in the midst of a global pandemic, intimacy and fellowship with strangers feels otherworldly. A hug feels like a forbidden act, an outdated custom of a bygone era.
In the context of a gallery space, the performance emphasizes other observations, including the modernist obsession with the white cube as art critic Brian O'Doherty addresses in his book Inside the White Cube. O'Doherty argues that from within such an austere space every object becomes sacred, which he found to be problematic. In Sista-So-n-So, Bryant turns the association on its head by bringing the aesthetics and behaviors from a sacred space into a secular gallery, asking if spaces and objects are inherently sacred, or do people and community make things sacred?
– Cara Megan Lewis