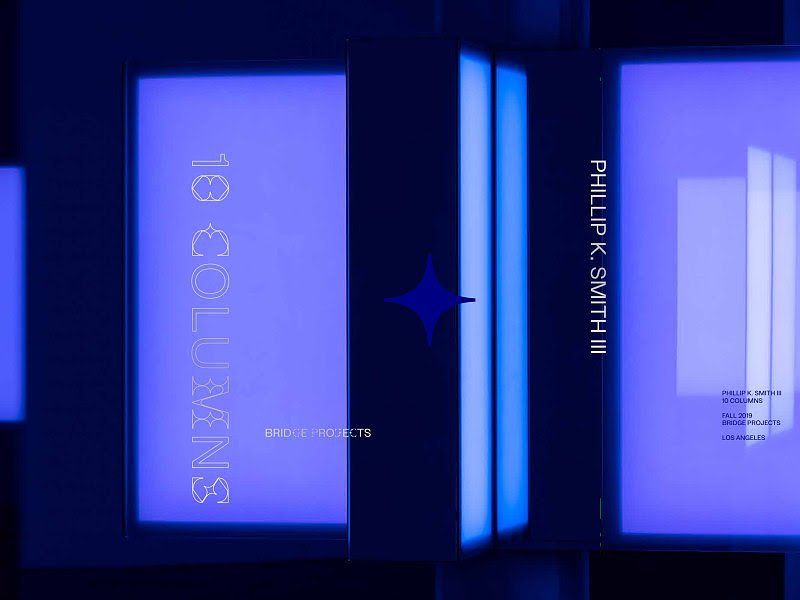 10 Columns: Artist Talk and Book Party
Bridge Projects
Saturday, December 14, 2019
3:00 pm –  6:00 pm
Featuring Phillip K. Smith III, Dan Cameron, Angela Bryant, and Mandy Kahn

Bridge Projects
Saturday, December 14, 2019
3:00 pm –  6:00 pm
To celebrate Bridge Projects' first catalog 10 Columns, Phillip K. Smith III and curator Dan Cameron will discuss Smith's commissioned installation at Bridge Projects and other themes including the Light and Space movement and the cultural history of light. Setting the stage for the conversation, Angela Bryant will present on historic artists in Smith's lineage. To conclude the evening, Mandy Kahn will read a poem written in response to Smith's works. Copies of 10 Columns will be available for sale.
Designed by the award-winning design studio Content Object, the book features color plates of the installation, essays by Dan Cameron and Angela Bryant, a poem by Mandy Kahn, reflections from the Bridge Projects Directors Cara Megan Lewis and Linnea Spransy, and more. Diverse voices from art, philosophical, and religious history are quoted throughout, adding complexity and depth to the meaning of light.
Dan Cameron is a writer and art curator, previously Chief Curator at the Orange County Museum of Art. He curated the 2013 California-Pacific Triennial and wrote Kinesthesia: Latin American Kinetic Art, 1954-1969.
Mandy Kahn is the author of two poetry collections, Glenn Gould's Chair and Math, Heaven, Time. Her poetry was included in The Best American Poetry 2018. She has given readings at Cambridge University and London Review Bookshop in the UK, has been interviewed by BBC Radio, and The Los Angeles Review of Books.
Angela Bryant is a practicing artist, adjunct professor, independent curator, and founder of Abryant Gallery, an art consultation service and rotating contemporary art gallery for young/new and emerging artists. Angela currently works with Art Muse, a collective offering private experiences of the Los Angeles art scene.
Content Object (c/o) is a Los Angeles-based design studio that produces content-driven, object-oriented work. Founded in Los Angeles in 2013 by Kimberly Varella, Content Object has worked with clients and collaborators from museums, cultural institutions, and more.