Jump to
Bonita Helmer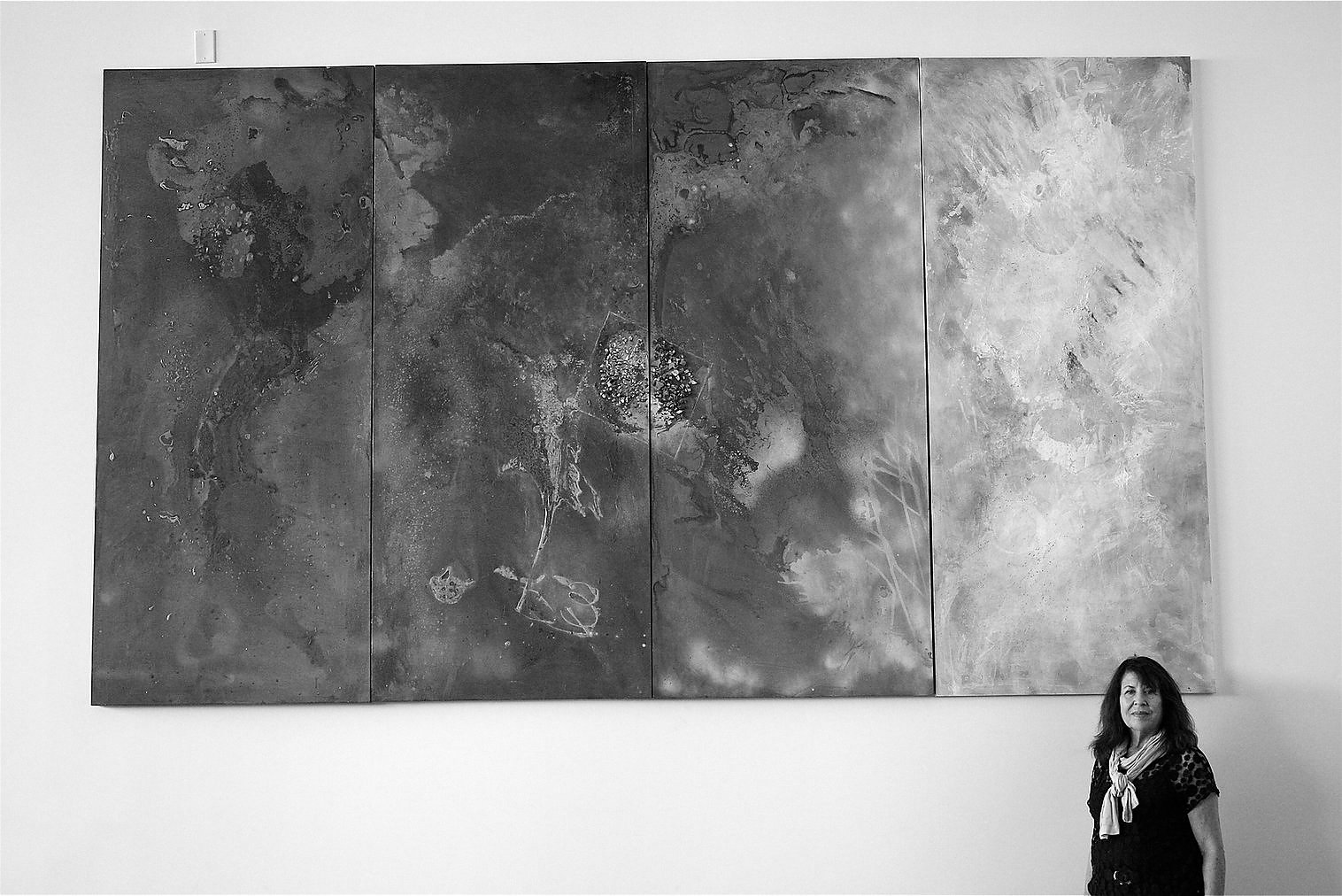 Bonita Helmer explores scientific theories of physics, astronomy, the inner and outer realms of existence, and the unseen elements of our universe in her paintings. Mystical and philosophical theories are interwoven with ancient symbols as she represents aspects of space and particle physics such as the crystal lattice, nutrino, gravitino, sparticles and star nurseries. Helmer is attracted to naturally occurring and theoretical forms and structures that lend themselves to gestural abstract painting. In actuality, she paints real things and places that are in themselves abstract and sometimes even invisible. She uses physics along with images from space as inspiration for investigation into the theory of the ever–expanding universe.
During graduate work at Otis College of Art and Design, Helmer worked with Mitsumi Kanemitsu who became a strong influence in the use of abstraction in painting. Helmer also met and studied with Francoise Gilot at University of Southern California/Idyllwild campus. Gilot introduced Helmer to the use of universal symbol in art. At that time other influences included a friendship with Dr. Jonas Salk who brought to Helmer, awareness of the relationship between science and art. Helmer studied the origins of the universe via physics and astronomy at UCLA and has continued in her personal research into physics and mystical studies. Helmer taught at Otis College Art and Design 1998-2018. Helmer received her BA in painting, UCLA, Antioch and did graduate work at Otis College Art and Design.
Helmer's work has been exhibited nationally and internationally. Exhibitions include: Kunstraum F200 galerie, Philip Johnston Bl. Berlin; MOCA, Beijing; a solo show at L'Espace Bateau Lavoir, L'Ecole des Arts Decoratifs in Paris; an official adjunct show as part of the MOCA Los Angeles, Whack retrospective of Women in Art; International Space Conference in Washington, DC.; Newport Harbor Art Museum (Orange County Museum of Art); Gallery Q, Tokyo; French Consulate/Alliance Francaise, Los Angeles; UCLA Dortort Center for the Arts, HUC Museum, NYU campus; Museum of Latin American Art (MOLAA). Helmer has also done paintings as set design for performance pieces, one co-produced by CalArts and the other in part by an NEA grant.