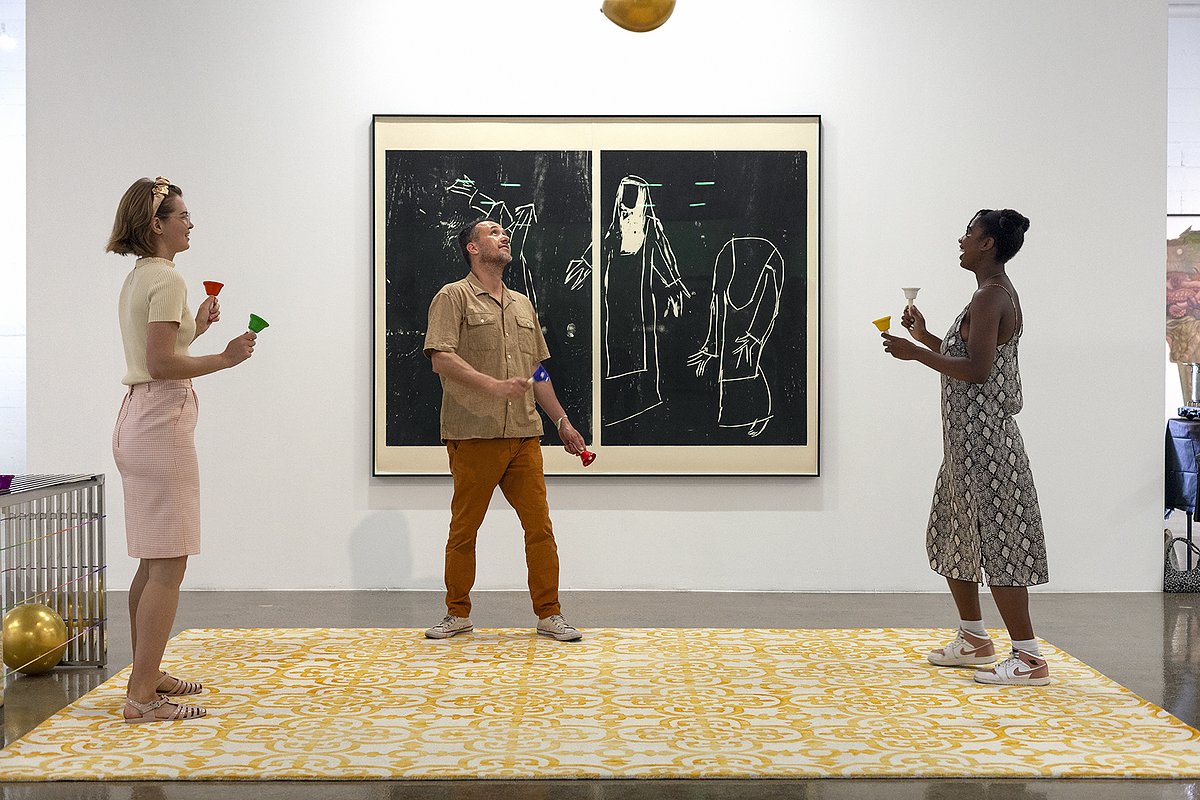 Closing Celebration
Bridge Projects
Saturday, July 30, 2022
4:00 pm –  7:00 pm
Here After

Bridge Projects
Saturday, July 30, 2022
4:00 pm –  7:00 pm
The Bridge Projects team expresses deep gratitude for the ensemble of artists, scholars, and friends that contributed to Here After, and for the community that embraced the exhibition. A group show featuring thirty-seven artists, Here After, explores the idea of paradise—both how it has been pursued on earth across history, and how it is imagined after life. These visions and hopes are rich, diverse, and deeply personal, but also comforting and joyous when viewed as a collective portrait of what lies beyond the veil of the unknown.
To commemorate the conclusion of Here After, Bridge Projects invites you to a closing celebration on July 30 from 4 – 7 pm. The festivities will include a live performance by the Arpana Dance Company, a touring and performing ensemble of the classical Indian dance form Bharata Natyam led by Ramya Harishankar.
5:00 pm - 1st Arpana Dance performance
5:45 pm - 2nd Arpana Dance performance
Refreshments and snacks will be served. Street parking only.
Featured artists: Alberto Aguilar, Farkhondeh Ahmadzadeh, Lynn Aldrich, Afruz Amighi, Andrea Büttner, Jeni Spota C., Mandy Cano Villalobos, Claire Curneen, Mercedes Dorame, James Elaine, Maja Lisa Engelhardt, Belu-Simion Fainaru, Amir H. Fallah, vanessa german, Alastair Gordon, David Wallace Haskins, Bonita Helmer, Gyun Hur, Zarah Hussain, Kate Ingold, William Kurelek, Olga Lah, Beth Lipman, Greg Lookerse, Regina Mamou, Kris Martin, Tatsuo Miyajima, Jordan Nassar, Tuan Andrew Nguyen, Master Shen-Long, Stanley Spencer, Linnéa Gabriella Spransy, Charwei Tsai, William Villalongo, Patty Wickman, James Wines, and Xu Zhen ®.
Related Programs
Alberto Aguilar
,
Farkhondeh Ahmadzadeh
,
Lynn Aldrich
,
Afruz Amighi
,
Andrea Büttner
,
Jeni Spota C.
,
Mandy Cano Villalobos
,
Claire Curneen
,
Mercedes Dorame
,
James Elaine
,
Maja Lisa Engelhardt
,
Belu-Simion Fainaru
,
Amir H. Fallah
,
vanessa german
,
Alastair Gordon
,
David Wallace Haskins
,
Bonita Helmer
,
Gyun Hur
,
Zarah Hussain
,
Kate Ingold
,
William Kurelek
,
Olga Lah
,
Beth Lipman
,
Greg Lookerse
,
Regina Mamou
,
Kris Martin
,
Tatsuo Miyajima
,
Jordan Nassar
,
Tuan Andrew Nguyen
,
Master Shen-Long
,
Stanley Spencer
,
Linnéa Gabriella Spransy
,
Charwei Tsai
,
William Villalongo
,
Patty Wickman
,
James Wines
,
Xu Zhen®
Here After
Programming
May – Jul 2022
See Here After Exhibition
See more Performance