Jump to
William Kurelek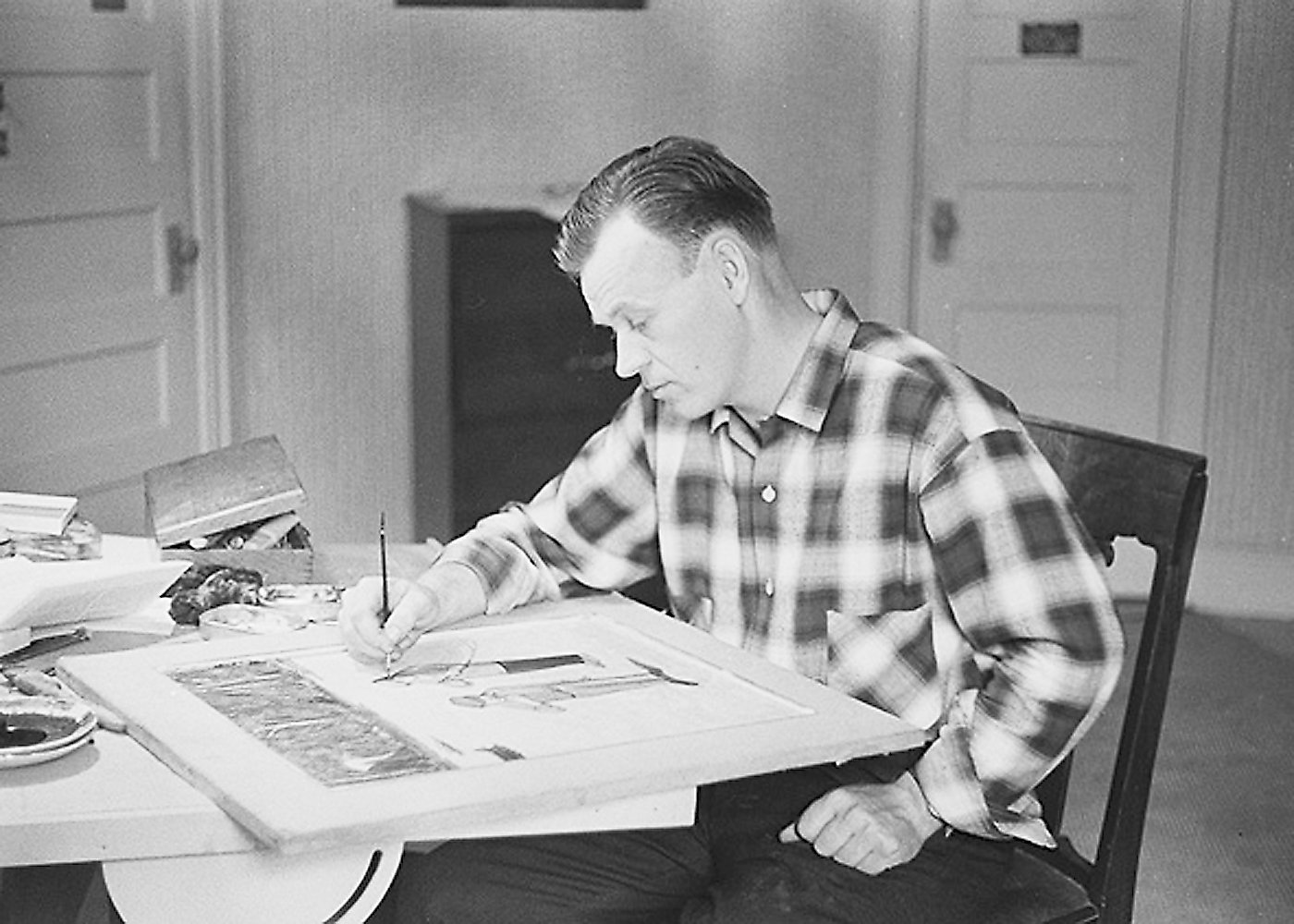 William Kurelek was born near Whitford, Alberta in 1927, the oldest of seven children in an Ukrainian immigrant family: Bill, John, Winn, Nancy, Sandy, Paul, Iris. His family lost their grain farm during the Great Depression and moved to a dairy farm near Stonewall, Manitoba. He developed an early interest in art which was not encouraged by his hard-working parents. He studied at the Ontario College of Art in Toronto and at the Instituto Allende in Mexico, but was primarily self-taught from books.
By his mid-twenties he was living in England. In 1952, suffering from clinical depression and emotional problems he was admitted to the Maudsley Psychiatric Hospital in London. There he was treated for schizophrenia. In hospital he painted, producing "The Maze", a dark depiction of his tortured youth.] (This 1953 work was used as the cover of the 1981 Van Halen rock album Fair Warning.) His experience in the hospital was documented in the LIFE Science Library book The Mind, published in 1965.
Originally Ukrainian Orthodox, William Kurelek converted to the Roman Catholic Church in 1957. He painted a series of 160 works on the Passion of Christ, and a series of 20 depicting the Nativity as if Christ had been born in Canadian settings: an igloo, a trapper's cabin, a boxcar, a motel. He maintained a cottage near Wilno (where he got his inspiration for a book of paintings entitled The Polish Canadians), and was a friend of the nearby Madonna House Apostolate.
William Kurelek returned to Toronto, writing and illustrating a series of children's books, several of which have become modern classics. In 1974 he illustrated a new edition of W.O. Mitchell's Who Has Seen The Wind. He won the Amelia Frances Howard-Gibbon Illustrator's Award for A Prairie Boy's Winter in 1974 and A Prairie Boy's Summer in 1976. In 1976, he was made a Member of the Order of Canada. He visited Ukraine in 1970 and again in 1977, publishing To My Father's Village. He died in Toronto in 1977.
Kurelek's art and writing were influenced by his childhood on the prairies, his Ukrainian-Canadian roots and his Roman Catholicism. The Canadian Encyclopedia calls him an outstanding artist with a unique idealistic and pragmatic vision. His archives, and a substantial body of his work, including the Passion mentioned above, are held at Niagara Falls Art Gallery.