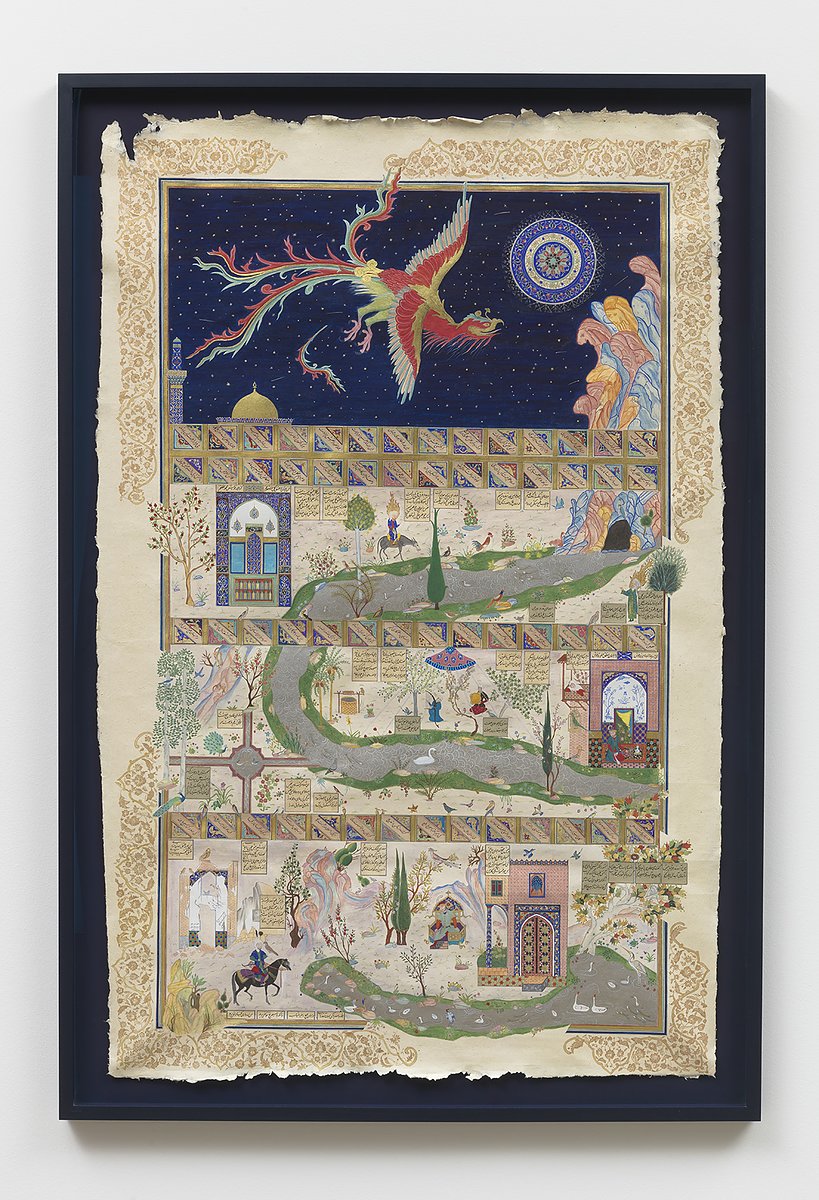 Picturing Paradise, the Hereafter in Art and Religion
Online Event
Saturday, July 16, 2022
11:00 am –  1:00 pm
with Pujan Gandhi, Amy Landau, Ben Quash, and Melissa Raphael

Online Event
Saturday, July 16, 2022
11:00 am –  1:00 pm
Ideas about heaven are as diverse and colorful as the many religions that describe it. For millennia, artists have attempted to visualize these versions of the afterlife, seeking to depict what lies beyond our earthly existence.
Consider the detailed illustration of Sultan Muhammad's miniature The ascent of Muhammad to heaven (mi'rāj) in the a Khamseh of Nizami; or the multitude of angels and saints in Fra Angelico's Christ Glorified in the Court of Heaven; or Pure Land Buddhism's Tibetan paintings of Amitābha welcoming the dead.
Our cultural and devotional imagination is enriched by the ongoing attempts artists make to visualize the invisible, and in this symposium, historians and curators specializing in Buddhist, Hindu, Jewish, Christian and Islamic art will account for the diversity of these beliefs about paradise through the lens of art both historic and contemporary.
Pujan Gandhi is the Jane Emison Assistant Curator of South and Southeast Asian Art at The Minneapolis Institute of Art. Prior to MIA, Pujan served as a consulting curator at the High Museum in Atlanta, worked as an independent curator on several international projects, ran his own London-based art advisory business, and guest lectured at the School of Oriental and African Studies (SOAS), University of London. Pujan was educated at Middlebury College and completed his postgraduate diploma and MA in the History of Art and Archaeology at SOAS, University of London, where he also cataloged at the British Museum. While his dissertation focused on early Jain art (c. 100 BCE to 300 CE) at a site in Mathura, India, Pujan considers himself an avid generalist, and is currently developing a Pan-Asian, transhistorical exhibition on Buddhism.
Amy Landau is Director of Education and Interpretation at the Fowler Museum at UCLA, where she oversees public programs, educational initiatives, and gallery interpretation. She co-leads the Fowler initiative "Engaging Lived Religion in the 21st Century Museum," with Patrick A. Polk. Landau previously served as Director of Curatorial Affairs and Curator of Islamic and South & Southeast Asian Art at the Walters Art Museum (2009-2018). Landau established "Art, Religion and Cities," with Professor Harold Morales and Professor Homayra Ziad in 2018. She was a fellow at the Center for Curatorial Leadership in 2017. As a curator for Islamic and South/Southeast Asian arts, Landau aims to create narratives that interweave histories of people, places, and objects. She has curated a series of exhibitions to highlight cross-collection themes and completed an international loan exhibition on Islamic Art dedicated to stories about people and the significance of biography in Muslim traditions.This exhibition, Pearls on a String: Artists, Patrons, and Poets at the Great Islamic Courts, was generously funded by the National Endowment for the Humanities, the National Endowment for the Arts, and the Institute of Museum and Library Services.
Ben Quash came to King's College London as its first Professor of Christianity and the Arts in 2007. Prior to that, he was a Fellow of Fitzwilliam College and then of Peterhouse in the University of Cambridge, and lecturer in the Faculty of Divinity there. He is fascinated by how the arts can renew people's engagement with the Bible and Christian tradition, and is directing a major 10-year project to create an online Visual Commentary on Scripture. He runs an MA in Christianity and the Arts in association with the National Gallery, London, and broadcasts frequently on BBC radio. He is a Trustee of Art + Christianity, and Canon Theologian of both Coventry and Bradford Cathedrals. His publications include Abiding: The Archbishop of Canterbury's Lent Book 2013 (Bloomsbury, 2012) and Found Theology: History, Imagination and the Holy Spirit (T&T Clark, 2014), and he has written or recorded essays for numerous exhibitions in London, as well as Berlin, Cheltenham, Chichester, New York City, Oxford, the Venice Biennale, and Washington DC.
Melissa Raphael is Professor Emerita (Jewish Theology) at the University of Gloucestershire and teaches Modern Jewish Thought at Leo Baeck College, London. She is the author of numerous articles and books, including Rudolf Otto and the Concept of Holiness (1997); The Female Face of God in Auschwitz: A Jewish Feminist Theology of the Holocaust (2003); Judaism and the Visual Image: A Jewish Theology of Art (2009), and Religion, Feminism, and Idoloclasm: Being and Becoming in the Women's Liberation Movement (2019).