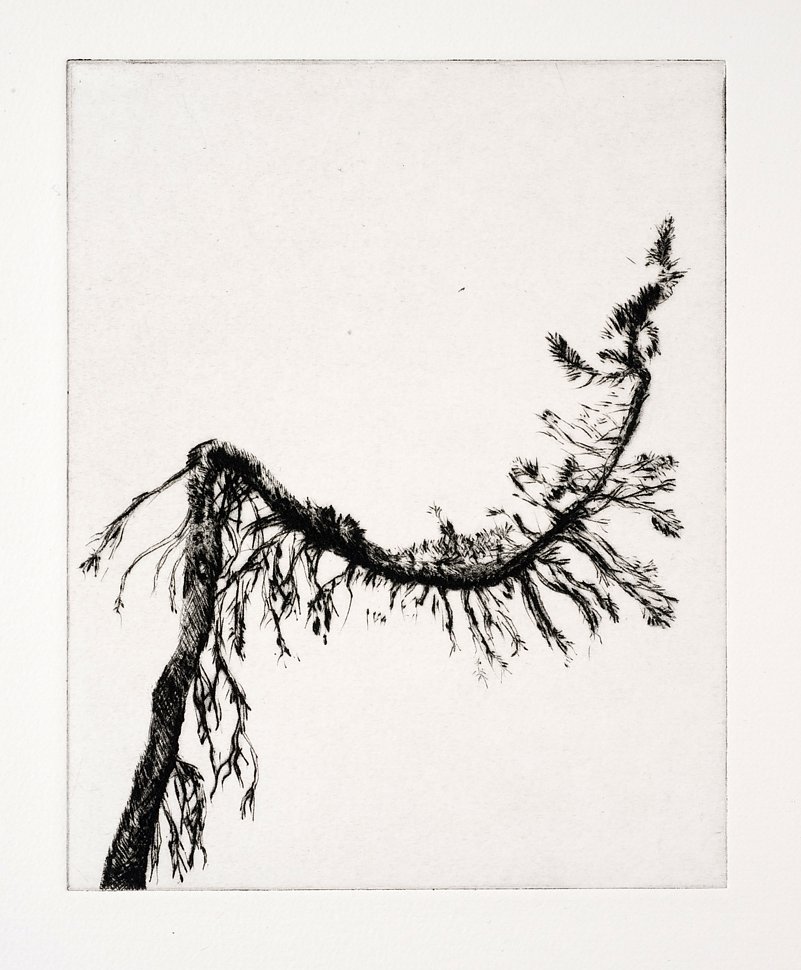 Cross of Christ, Oh Sacred Tree
Online Event
Monday, March 20, 2023
12:00 pm –  2:00 pm
The Fifteen Stations at Lent with Lucas Reiner and Nora M. Heimann

Online Event
Monday, March 20, 2023
12:00 pm –  2:00 pm
In his encyclical Laudato Si, Pope Francis addresses the crooked timber of humanity (to paraphrase Immanuel Kant's words), urging readers to strive for justice through care of the natural world. In Christian history, the cross on which Jesus Christ was crucified is seen as a site of ultimate justice, reversing the penalty of sin and resulting in a new creation.
These ideas meet in the etchings Fifteen Stations, Lucas Reiner's contemporary portrayal of the Stations of the Cross, where Christ's suffereing, crucifixion, and entombment are deftly represented by anthropomorphized trees. The Stations have been represented throughout art history; from Peter Paul Rubens and Matthias Grunewald to Henri Matisse, Barnett Newman, and Ed Ruscha.
In this online program, art historian Nora M. Heimann will lay the groundwork for a discussion of Reiner's stations by sharing about the nature of the Stations in devotional settings, along with an exploration of the Station's role in art and religious history. Together they will discuss how Reiner's work drifts between representational and abstract, symbolic images, an ambiguity that emerges both from his traditional printmaking methods and also the artist's ongoing dialogue with religious art of the past and an obsessive search for a new visual language that might translate it into the present.
BIOS
Lucas Reiner has widely exhibited internationally and his work is represented in public and private collections, including the permanent collections of the Los Angeles County Museum of Art (LACMA); the Santa Barbara Museum of Art; the West Collection (Oaks, Pennsylvania, USA); Staatlichen Graphischen Sammlung (Munich, Germany); the Diözesan Museum (Freising, Germany); Colección Jumex (Mexico City, Mexico); and the American Embassy Collection (Riga, Latvia); Kunstmuseum Magdeburg Kloster Unser Lieben Frauen.
Nora M. Heimann, Associate Professor of Art History in the Department of Art, is a specialist in European and American Modern and Contemporary art history, and the relationship between art, religion and national identity. Her work experience includes curating exhibitions at the Corcoran Gallery of Art (DC), the Knights of Columbus Museum (New Haven), and the Chapin Rare Book Library (Williamstown); and working for curatorial and education departments at the Metropolitan Museum of Art (NYC), the Museum of Modern Art (NYC), the Walker Art Center (Minneapolis), the Minneapolis Museum of Art, and the Städische Sammlung Schweinfurt (Germany). Her publications include two books: Joan of Arc: Her Image in France and America (2006), and Joan of Arc in French Art and Culture (1700-1855): From Satire to Sanctity (2005), and a variety of exhibition catalogue entries and articles on European and American art from the 19th to the 21st centuries.