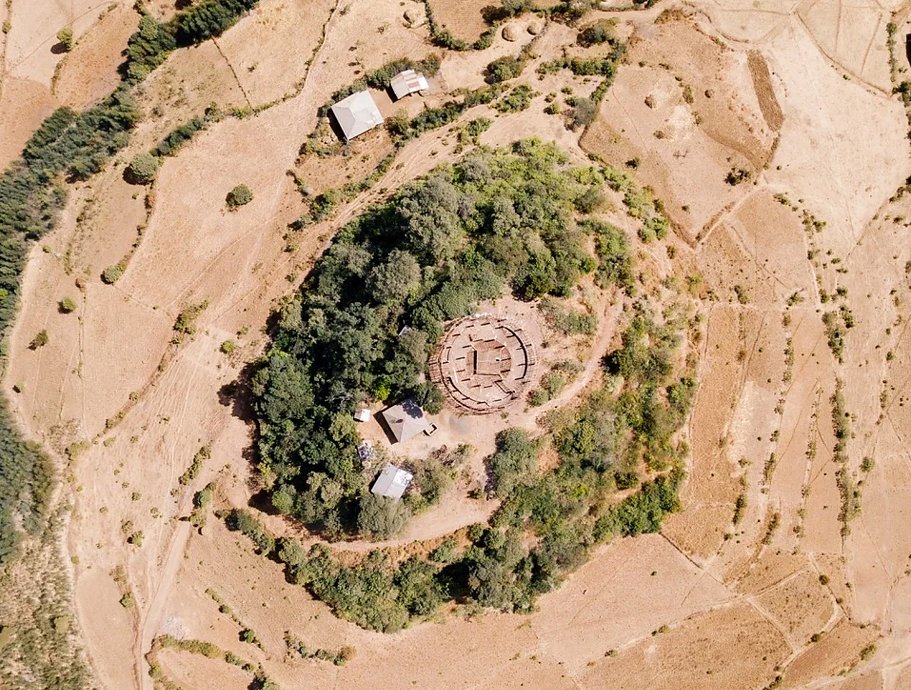 Hierotopia: The Spirituality and Ecology of Ethiopian Church Forests
Online Event
Thursday, November 10, 2022
10:00 am – 12:00 pm
with Kieran Dodds, Dr. Margaret Lowman, and Dr. Alemayehu Wassie Eshete

Online Event
Thursday, November 10, 2022
10:00 am – 12:00 pm
In the last 100 years, over 90% of Ethiopia's forests have been lost to drought and deforestation. Yet in the area east of Lake Tana, the shady canopies of the Ethiopian Orthodox church are scattered like arbors across the arid landscape. Prayerful posture and social imagination meet in this sacralizing space that, for Ethiopian Christians, evokes a future hope: a new Eden where all relationships—natural, human, and divine—will be restored.
The religious significance of these forests is equalled by their ecological function, nourishing environments far beyond their walled boundaries. These oases raise water tables, cool temperatures, block destructive winds, and are home to yield-boosting pollinators which are critical to the region's agricultural sustainability.
In this roundtable discussion, we invite you to learn from photographer Kieran Dodds, who, with the support of the Royal Photographic Society and in collaboration with the Ethiopian Orthodox Tewahedo Church, has extensively documented these churches and their communities. He will be joined by Dr. Margaret Lowman, a leading pioneer in the development of forest canopy science; and Dr. Alemayehu Wassie Eshete, who has over three decades of forestry, ecology, and conservation experience from within Ethiopian government offices.
Time:
10 AM — PT
12 PM — CT
1 PM — ET
6 PM — Scotland
9 PM — Ethiopia
BIOS
Kieran Dodds is a non-fiction photographer known for his research-driven photo stories and portraiture. His personal work considers the interplay of environment and culture, tracing global events through daily lives. He lives in Scotland with his wife and twin daughters. His work is represented by Panos Pictures, London.
For more than 40 years, Margaret "CanopyMeg" Lowman Ph.D. has pioneered the development of forest canopy science and been involved in groundbreaking work in forty-six countries across seven continents. She refers to herself as an "arbornaut" — an explorer of the forest canopies that make up what she affectionately calls the eighth continent. As the author/co-author of multiple books and over 150 scientific publications, Meg is regularly invited to co-chair international canopy conferences, speak to colleges and universities, and serve in sustainable advisory positions and on boards for corporations and nonprofits across the globe. In January 2009, the TREE Foundation forged a partnership with the Christian Orthodox clergy in Ethiopia to conserve their church forests. Those efforts were highlighted in a short film published by The New York Times as part of its award-winning Op-Docs (opinion documentary) series.
Dr. Alemayehu Wassie Eshete has over three decades of forestry, ecology, and conservation experience from within government offices and NGOs. He joined ORDA (Organization for Rehabilitation and Development in Amhara) as a forest development project coordinator and was steadily promoted up to Executive Director. Alemayehu holds several degrees in forestry and forest ecology, including a masters and a PhD. He is also the author of best-selling mystical novels in Ethiopia.