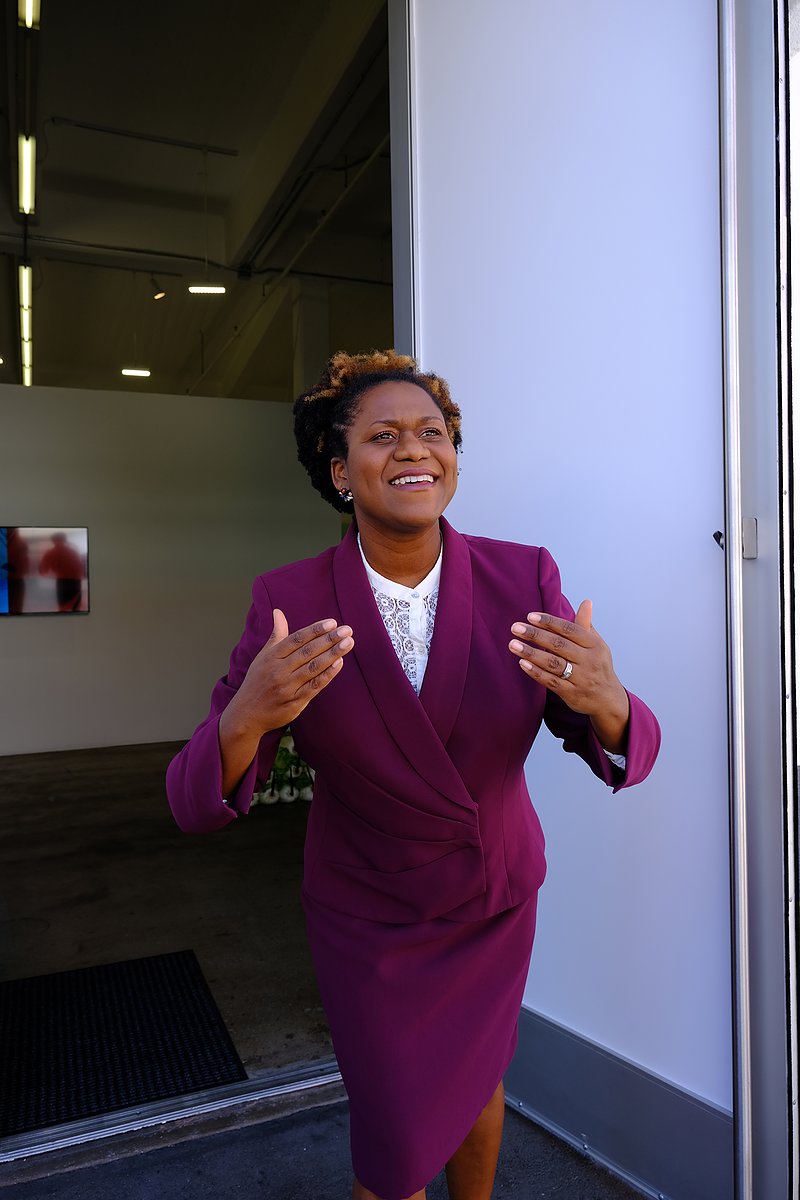 Open House
Bridge Projects
Friday, April 9, 2021
11:00 am –  6:00 pm
Otherwise/Revival

Bridge Projects
Friday, April 9, 2021
11:00 am –  6:00 pm
To mark the opening of Otherwise/Revival, Bridge Projects invites you to a day-long Open House on April 9, 2021, both in-person at the gallery from 11:00 am - 6:00 pm PDT, with a live in-person performance by Angela Bryant from 4:00 pm - 6:00 pm, and an online musical performance featuring Ashon T. Crawley on Zoom at 4:00 pm.
Co-curated by Jasmine McNeal and Cara Megan Lewis, Otherwise/Revival visualizes the impact of the historic Black church—specifically the Black Pentecostal movement—on contemporary artists. The group exhibition features: Terry Adkins, McArthur Binion, Folayemi (Fo) Wilson of blkHaUS Studios, and Norman Teague of Norman Teague Design Studios (NTDS), Angela Bryant, Willie Cole, Ashon T. Crawley, Kenturah Davis, Mark Steven Greenfield, Lauren Halsey, Trenton Doyle Hancock, Letitia Huckaby, Sedrick Huckaby, Clementine Hunter, VinZula Kara, Caroline Kent, Deana Lawson, Nery Gabriel Lemus, Christina McPhee, Sister Gertrude Morgan, Nathaniel Mary Quinn, Dario Robleto, Lezley Saar, Zina Saro-Wiwa, Phyllis Stephens, Lava Thomas, Sara Sonié Joi Thompson-Ruffin, Genesis Tramaine, Kehinde Wiley, Brittney Leeanne Williams, and Nate Young.
The Open House will mark the debut of two performances including a virtual performance of Ashon T. Crawley's yes! lord a musical piece inspired by Blackpentecostal prayer, and an in-person performance of Sista So-n-So, Angela Bryant's work that embodies the welcoming spirit of a church greeter. Learn more about both works below.
The health and safety of our community is of utmost importance. Masks are required for visitors at all times, and the gallery will provide hand sanitizer as well as ample space for social distancing. Please do not come to the gallery if you have a fever and are not feeling well.
If you have additional questions, please email us at info@bridgeprojects.com.
Ashon T. Crawley, yes! lord.
online performance via Zoom from 4:00 pm - 5:00 pm PDT
yes! lord brings together various cultural traditions—the neoclassical music of Steve Reich; the improvisatory drive of black church choral music; the chanting of the Blackpentecostal "yes" and "yes, lord"; and the sound of the Hammond organ. The word and concept yes in the Blackpentecostal Church is about openness, surrender, vulnerability. Black life, blackqueer possibility, is the continual unfolding of the posture and practice of "yes," the practice and posture of vulnerability and openness and letting-be, and allowance and yielding as a way of life.
yes! lord is performed by Abdul Hamid Robinson Royal, Hammond Organist, Jyvonne Haskins, soprano, Priscilla Perry, soprano, Khyle Wooten, alto, Naomi Washington Leapheart, alto, Jadrian Tarver, tenor, and Ashon T. Crawley, tenor.
The musical work yes! lord will be available online both during and after the open house.
Angela Bryant, Sista So-n-So
live performance at gallery from 4:00 pm - 6:00 pm PDT
In Angela Bryant's youth, visiting a Black church felt like visiting another world as compared to the predominantly white, private, conservative Christian school she attended. What she remembers most from her visits to the Black church was "a sense of warmth, not necessarily a belonging but a welcoming," as she expresses in her artist statement. Church sisters or lady ushers would greet congregants with perfume-laced hugs and decorated fans. As a child, Bryant collected these church fans, stashing them in between books on her shelf; upon discovering them later, they served as a visual reminder of a warm embrace. That welcoming spirit is what Bryant conjures in her performance Sista So-n-So. She recreates the experience of entering a Black church with herself as the perpetually smiling church greeter giving hugs and passing out fans. Sista So-n-So transports an aspect of the Black church experience into the secular space of an art gallery where, in the midst of a global pandemic, intimacy and fellowship with strangers feels otherworldly. A hug feels like a forbidden act, an outdated custom of a bygone era.
Hugs will be offered to those who want them as an act of welcome and a symbol of reconnection after an era of long isolation.