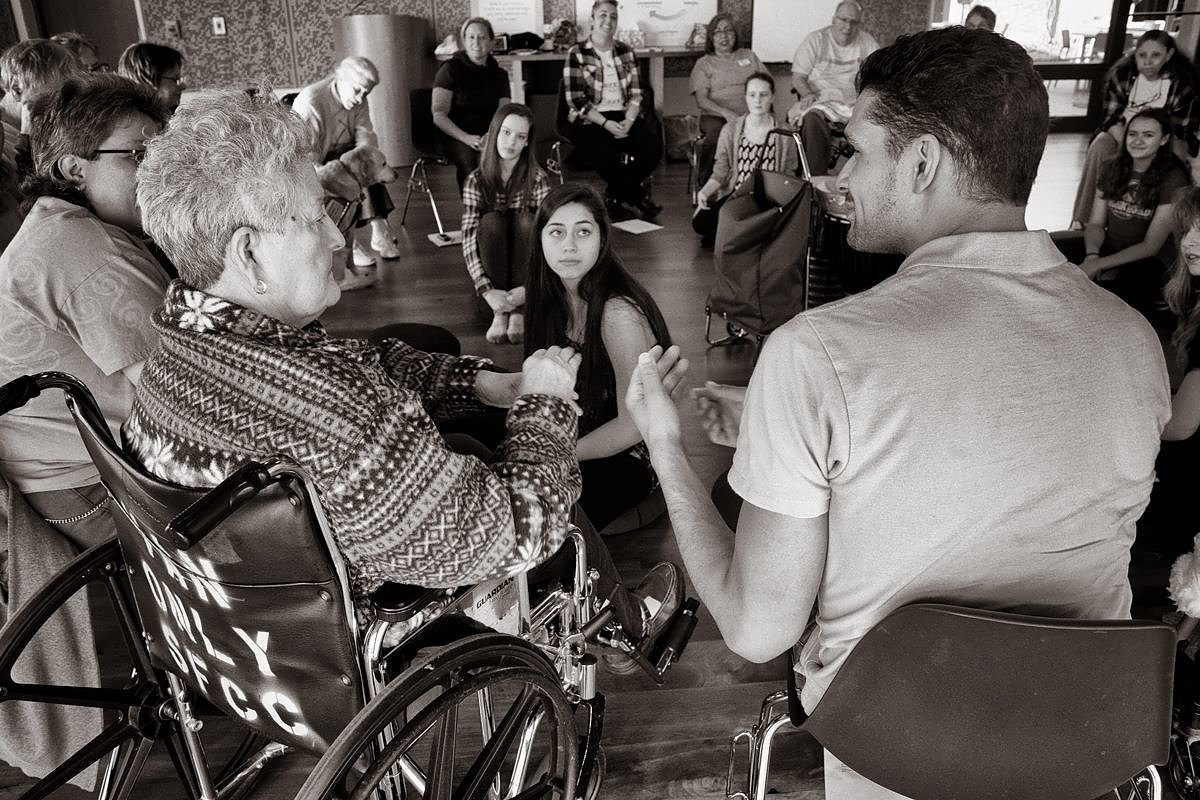 A Festival of Ingathering: Moving Toward One Another
Bridge Projects
Sunday, September 26, 2021
10:30 am – 11:30 am
with Adam W. McKinney

Bridge Projects
Sunday, September 26, 2021
10:30 am – 11:30 am
Please join dancer, choreographer, activist, and artist Adam W. McKinney for an in-person, free workshop on Sunday, September 26 at 10:30am. A Festival of Ingathering: Moving Toward One Another explores ideas of storytelling through movement during and in response to the holiday of Sukkot. One of the ritual prayers during Sukkot involves the gathering of the "four species"–a date frond, myrtle boughs, willow branches, and citron fruit–and shaking them together in six directions. Some believe that each element represents different groups of people and shaking the "four species" together manifests the uniting of people. Through movement, dance, and community, A Festival of Ingathering: Moving Toward One Another will explore elements of history, location, and story using bodies as canvases for healing and unity.
The workshop will occur just before the last days of Sukkot called Hoshana Raba, during which Jewish people remember and practice departing, atoning, striking, and shaking in preparation for the rain that manifests during the holiday of Shemini Atzeret.
Adam W. McKinney is a dancer, choreographer, activist, and installation artist. He is a former dancer with Alvin Ailey American Dance Theater, Béjart Ballet Lausanne, Alonzo King LINES Ballet, Cedar Lake Contemporary Ballet, and Milwaukee Ballet Company. His work sits at the intersection of dance and performance studies, trauma studies, community, healing, and technology. He has led and presented his artwork across the US and in Asia, Africa, Central America, Europe, and the Middle East. His recent work, Fort Worth Lynching Tour: Honoring the Memory of Mr. Fred Rouse, a community-based augmented reality bike and car tour, was lauded by Mid-America Arts Alliance with an Interchange grant award.
Named one of the most influential African Americans in Milwaukee by the Society of St. Vincent de Paul, McKinney is Co-Artistic Director of DNAWORKS, an arts and service organization committed to healing through the arts and dialogue. He co-convened the 1012 Leadership Coalition to acquire and transform Fort Worth's former KKK auditorium into The Fred Rouse Center and Museum for Arts and Community Healing. He holds a BFA in Dance Performance with high honors from Butler University and an MA in Dance Studies with concentrations in Race and Trauma theories from New York University Gallatin School of Individualized Study. McKinney is an Assistant Professor of Dance at Texas Christian University in Fort Worth.