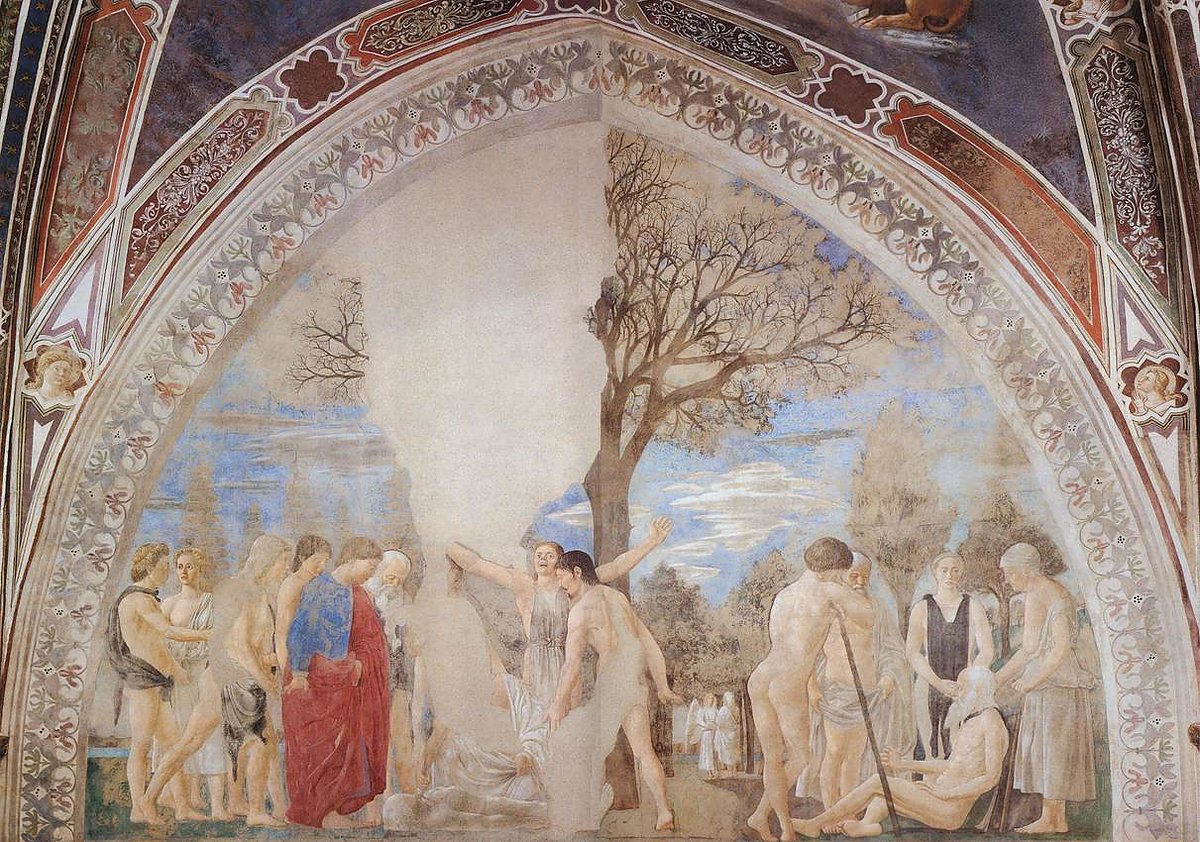 Piero della Francesca and the Language of Trees
Online Event
Saturday, June 6, 2020
12:00 pm –  1:30 pm
with Dr. Jennifer Sliwka

Online Event
Saturday, June 6, 2020
12:00 pm –  1:30 pm
In the visual language of the Italian Renaissance painter Piero della Francesca (c. 1415–1492) trees operate on formal, allegorical and narrative levels. For example, they often help define and frame a composition, provide a kind of commentary on the scene represented and sometimes even feature as major protagonists in a narrative.
This talk will explore Piero's earliest surviving work, the Baptism of Christ (after 1437) now in the National Gallery, London which prominently features a seemingly incongruous walnut tree and his most famous work, the fresco cycle of the Legend of the True Cross (c. 1452–1466) in San Francesco, Arezzo, which chronicles an extraordinary tree and its miraculous lineage. As this talk will suggest, trees also seem to have had a very personal meaning for the artist, one that was bound up with his sense of place, of the sacred and of the self.
An art historian specializing in Italian Renaissance art, Dr. Jennifer Sliwka received her PhD from the Johns Hopkins University and MA from the Courtauld Institute of Art. Her research has been supported by the Getty Research Institute, the Kress Foundation, the Metropolitan Museum of Art and the Villa I Tatti, The Harvard Center for Italian Renaissance Studies. Sliwka has taught for Universities in Canada, the US, France, Italy and the UK and helped design and teach the collaborative MA in 'Christianity and the Arts' between King's College and the National Gallery. From 2007-2017 she worked as a Curator at the National Gallery, London, curating exhibitions including: Devotion by Design: Italian Altarpieces before 1500 (2011), Visions of Paradise: Botticini's Palmieri Altarpiece (2015) and Monochrome: Painting in Black and White (2017-18). Before joining the National Gallery she worked at the British Museum and the Victoria and Albert Museum.