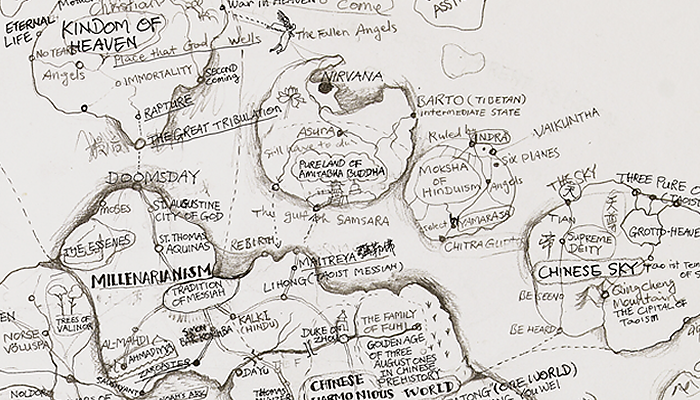 The Souls of China: The Return of Religion After Mao
Online Event
Friday, October 16, 2020
6:30 pm –  8:00 pm
with Ian Johnson

Online Event
Friday, October 16, 2020
6:30 pm –  8:00 pm
For more than a hundred years, China has been committed to forced secularization, where most religions have been heavily persecuted or even banned. But religion is now back at the center of Chinese society and politics, and the country is awash with new temples, churches, and mosques—and politicians trying to harness religion for their own ends. Churches are being demolished, Muslims are forced into reeducation camps, and the government promotes Buddhism and folk religion. How do we reconcile the complicated religious worlds of postsecular China? This lecture will look for an answer.
Pulitzer-Prize winning journalist Ian Johnson has lived in China for more than 20 years writing on society, religion, and history. He was selected for the National Endowment for the Humanities Public Scholars program for his book in progress on China's unofficial history. His newest book The Souls of China: The Return of Religion After Mao describes China's religious revival and its implications for politics and society. His other works include Wild Grass, a book on civil society and grassroots protest in China, and A Mosque in Munich, a study of Islam and the Cold War in Europe. He has also contributed chapters to My First Trip to China (2011), Chinese Characters (2012), and the Oxford Illustrated History of Modern China (2016).
After the lecture, there will be a conversation between Ian Johnson and Promise Hsu. Promise Hsu is an Associate Editor of VoegelinView and a Beijing-based independent journalist and scholar. In 2017, he became the founding editor-in-chief of The Kosmos (kosmoschina.org), an independent Chinese quarterly of history and ideas. He was a world affairs journalist at China Central Television's English News Channel, a member of American Political Science Association, and a visiting scholar at Calvin Theological Seminary. He is author of China's Quest for Liberty: A Personal History of Freedom (St. Augustine's Press, 2019).
This program will be presented in English and Chinese.
---
Bridge Projects is pleased to announce "Light Through the Cracks," a suite of online programs curated by art writer Clover Xuesong Zhou that compliments the upcoming show A Composite Leviathan.
The title comes from curator James Elaine who uses lyrics by Leonard Cohen to reflect on themes of the show: "There is a crack, a crack in everything / That's how the light gets in." As he says in his curatorial statement, A Composite Leviathan "showcases a community of dispersed artists, living in a conflicting system of flux and control, who are drawing the lines that let the light in." The programs of "Light Through the Cracks" further explore how art and spirituality exist within the cracks of historical and contemporary Chinese culture. As one of the cracks of reality, some reductionist views have focused too narrowly on the influence of Western art when accounting for the shape of Chinese contemporary art. In truth, Chinese contemporary art also has deep roots in its historical, cultural, and spiritual context, and "Light Through the Cracks" aims to present a more complete picture of Chinese contemporary art.
Most programs will be in English and Chinese and fully online—a choice that gives viewers an opportunity to hear from honored speakers from all over the world.